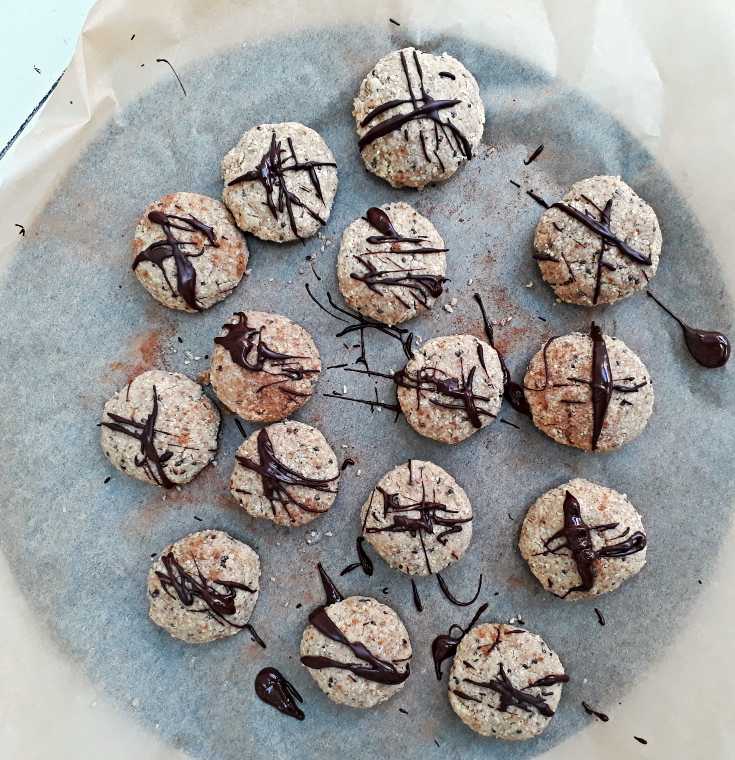 No Bake Cashew and Coconut Cookie Bites
"These are delicious" says my sugar loving husband. WIN!
I adapted this from a Calgary Avansino recipe in an attempt to make them slightly more appealing to an adult pallet and to see if i could sneak some added nutrition in to them, it worked! 
These are a great balanced 'grab and go' treat/snack for the whole family. They could not be any easier or quicker to make and require no baking – they set in the fridge! 
I don't eat regular ice cream anymore but they remind me of raw cookie dough so I can imagine they would go really well with some vanilla ice cream (note to self: post a refined sugar free ice cream recipie) to make a healthy take on the Ben & Jerry's cookie dough. 
If coconut isn't your thing, these will work without too.
Happy snacking!! 
Ingredients
100g plain cashew nuts 
3 tbsp melted coconut oil
4 pitted medjool dates
2 tbsp plain sunflower seeds
1 tbsp chia seeds
3 tsp desicated coconut (optional)  
1/2 tsp cinnamon (to taste) 
1 tsp vanilla extract 
pinch of good quality salt
75g gluten free oats (or regular oats)
Throw everything in a food processor and blend. 
---
---
If the mixture doesn't hold together, add another date and pulse again.
---
---
Roll the mixture by hand into small balls and slightly flatten into mini cookie shape onto baking paper.
---
---
Sprinkle with cinnamon. Drizzle with melted Chocolate (optional) or fruit puree.
---
---
Place into fridge for 2-4 hours to set.
---
---
Move into air tight container and keep in fridge (if you haven't eaten them all already).
---
---